Workshop/Performance
The aim here is to create space for useless, non performance things to happen, regardless of sense making or resolve. With this motive in mind much was found, not found and let go of. This idea is the motive behind a workshop I lead called "Workshop/Performance".
Miami
During the Satellite Art Fair in Miami, Florida, I presented Workshop/Performance with Quinn Dukes, Shawn Escarciga and Dave Koenig helping facilitate. As a result, the work quickly became an event that pulled in scared observers, encouraging them to actively take part.. which, eventually, made them less scared.
Performance is Alive Series, Dec. 2017
Fayetteville
Instead of presenting a performance for an audience to watch, I facilitated Workshop/Performance for the Inverse Performance Art Festival in Fayetteville, Arkansas. This enabled people, performer or not, to take part in the performance making process.
April 2018. Photo credit: Cynthia Post Hunt
Ostend
During my two week residency at De Grote Post in Ostend, Belgium, (right by the North Sea) I led Workshop/Performance for a wide variety of people. With four sessions per week, this brought together a ton of great finds, one black eye and ton of laughing.
Oct/Nov 2018
London
In London, I led Workshop/Performance at Chisenhale Dance Space and So & So Arts Club. Chisenhale drew mostly dancers, while So & So Arts drew all actors. The results of each sessions were super different, super unexpected and super hilarious.
Oct/Nov 2018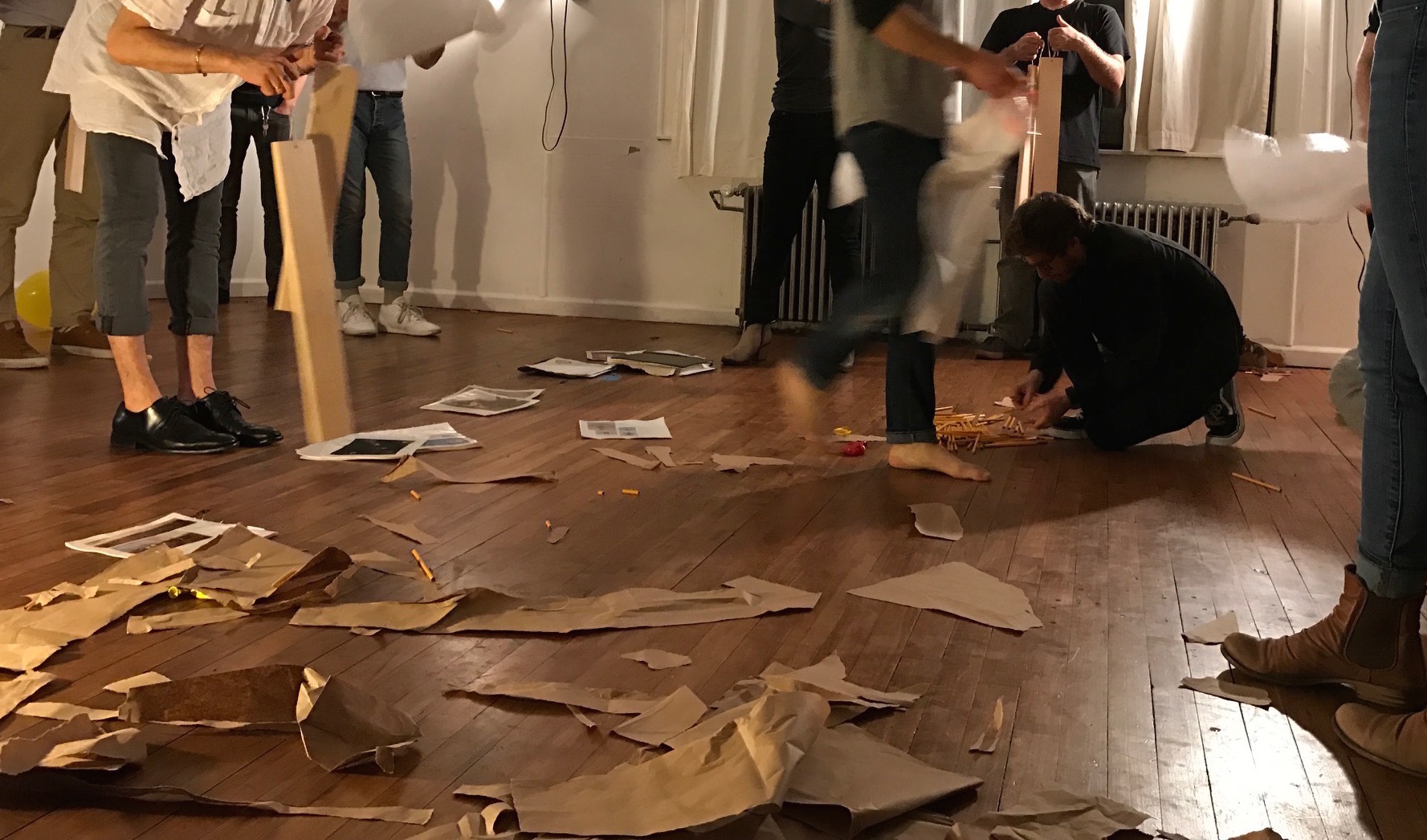 Detroit
At Light Box performance space, I led Workshop/Performance for a diverse group of people. We started with games like hide and go seek tag, dodge ball and red light/green light. This prepared us for the performance at the end where we used the room and all it's contents, people included, to explore impromtu actions, situations and events. A huge thanks to Cara, Corey and Stephanie.
Feb. 2019
St. John's University
At St. John's in Queens, we focused on using what was available in the room to make things.
St. John's University, Queens, NY, 2017
Montclair State University
This workshop was all about physical play. Using games like 'capture the flag' and nonsensical tasks like 'stack, climb, drag', we looked at the notion of actions for their own sake.
Montclair State University, Montclair, New Jersey, 2017